---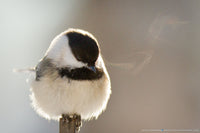 Black-capped Chickadee
Our temperature had plummeted to -46˚during the nighttime. As the sunshine warmed up our morning to a balmy -32˚, I made a few images of this chickadee's breath.
Original Price $75

 Metal Prints These specialty prints are created by infusing dyes directly into specially coated aluminum sheets, then "brought to life" with a high gloss finish, giving them an almost magical luminescence. Each print comes ready to hang and will float off the wall. This product is a favorite for night sky images.
All prints are hand-signed and do not include the watermark.
Image © Heidi Pinkerton