---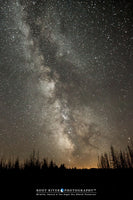 The first time making a conscious effort to photograph the Dark Horse Nebula (also called The Prancing Horse) was the night before my Dad's birthday, less than a month after he passed away. There was a good chance of northern lights that night, so I made my way to a quiet place I was hoping no one else would be. That's not so easy to do during summer nights in Ely. So many of us enjoy the dark skies. Sure enough, shortly before the aurora lit up the sky to the north, I was able to make an image that included what I sought!
Ely, Minnesota
Photographed August 2, 2016
Photographic Prints Kodak ENDURA professional photo paper has a satin-like sheen and a modestly textured surface which you can see when the light angle is just right. This paper will give you the longest lasting and highest quality photographic prints available. Lustre is our favorite paper for fine art prints.
Metal Prints These specialty prints are created by infusing dyes directly into specially coated aluminum sheets, then "brought to life" with a high gloss finish which gives them an almost magical luminescence. Each print comes ready to hang and will float off the wall. This product is a favorite for night sky images.
Canvas Giclée Canvas Gallery Wraps are printed onto museum quality canvas using high quality archival inks. The print is then wrapped around a 1-1/2" stretcher frame. The piece is finished with a protective lustre coat and comes ready to hang.
All prints are hand signed, and do not include the watermark.
Image © 2016 Heidi Pinkerton